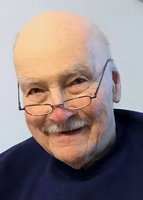 David M Fischer
David M. Fischer, 90, of Franconia formerly of Skippack, passed away Sunday, May 27, 2018, at The Community at Rockhill in W. Rockhill Twp. He was the beloved husband of the late Jean (Murphy) Fischer to whom he was married for over 66 years and who passed away in 2017.
Born October 26, 1927, in Hatfield he was the son of the late Martin and Viola Fischer and was a graduate of the former Hatfield High School.
Mr. Fischer honorably and faithfully served his country in the United States Merchant Marines for 18 years. During that time he circled the globe seven times visiting six continents and logging 729,008 miles. Later, Mr. Fischer was employed as an electrician and was a member of the IBEW Local 380, where additionally he served on the Health and Welfare Committee for many years.
Mr. Fischer was a lifetime member of the Skippack Fire Company and was their treasurer for 28 years. He was a member of the Skippack Fire Police and was the former chief of the North Penn Goodwill Service Station 41 of Souderton. Mr. Fischer was a member of Christ United Methodist Church in Lansdale and was a friend of Bethel Hill United Methodist Church. He was a member of the Skippack Lions Club, volunteered for many years with Habitat for Humanity, and volunteered with the Boy Scouts of America. Mr. Fischer was a passionate member of the American Merchant Marines Veterans helping get recognition and support for other Merchant Marine veterans.
Mr. Fischer was an avid blood donor, gardener, and reader; his favorite author being Rudyard Kipling. After retirement he and his wife spent time traveling the world, seeing such places as Australia, Europe, and Asia. Their US travels took them coast to coast as well as Hawaii and Alaska.
He is survived by his three children Christine Mosier and her husband, Joel of Buda, TX, David M. Fischer of Franconia, Shay Ziegler and her husband, Richard, of Coatesville; eight grandchildren, Jay, Chris (Lindsay), Erin (Allen), Tom, Becky (Keaton), Ben(Christina), Tristen (Nick), and Tyler (Lauren); eight great grandchildren, Stella, Kailyn, Braydon, Gavin, Grace, Stone, Max, and Jett, many nieces and nephews and cousins; and by Pat Fischer of Trappe.
In addition to his wife and parents, he was predeceased by his sister Mildred Constable.
Relatives and friends are invited to attend his funeral service at 10 AM on Saturday, June 2, 2018, at the R. L. Williams, Jr. Funeral Home, Inc. Skippack Pike at Cedars Rd. Skippack. Friends may call for the viewing on Friday, June 1, from 6-8PM at the funeral home and again on Saturday from 9-10 AM. Burial will follow the service at Trinity U.C.C. Church cemetery. In lieu of flowers contributions may be made in his memory to the Skippack Fire Company, PO Box 1, Skippack, PA 19474 or to Bethel Hill United Methodist Church, 2000 Bethel Rd, Lansdale, PA 19446. Online condolences may be made to the family at www.rlwilliamsfuneralhome.com.